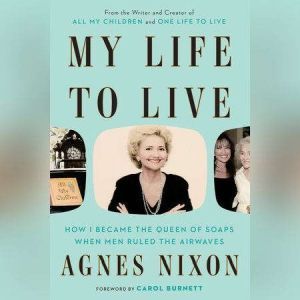 List: $17.50

| Sale: $12.60
My Life to Live


How I Became the Queen of Soaps When Men Ruled the Airwaves

Format: Digital Audiobook Download
---
Synopsis
From the Emmy-winning writer and creator of All My Children, One Life to Live, and Loving, a memoir of her trailblazing rise to the top of the television industry, including behind-the-scenes stories from some of the most beloved soaps of all time
 
Before there was Erica Kane, Adam Chandler, or Victoria Lord, there was Agnes Nixon, a young girl who dreamed up stories for paper dolls. Those tales she imagined--ones filled with ambitions, rivalries, and romances--would soon echo her own path to success. In a memoir filled with as much drama as the soaps she penned, Nixon shares her journey as daughter of a broken marriage, who fought back against her father's wish that she take over the family burial garments business, overcame the heartbreak of losing her fiancé in WWII, and later became one of the most successful names in the TV industry.

Fans of Nixon's greatest creations, All My Children and One Life to Live, will delight at Nixon's own incredible life, as well as the behind-the-scenes insight she lends to daytime's most popular programs. Nixon will share the inspiration behind and casting of the iconic character Erica Kane, played by Susan Lucci; the story bible for All My Children, and how it became lost, and then locked away in a drawer for many years; and how Nixon positioned ABC to become the media giant it is today, despite pushback from her male counterparts. This candid glimpse behind the curtain of the soap opera industry will charm soap fans and story lovers alike.

With a foreword written and read by Carol Burnett.