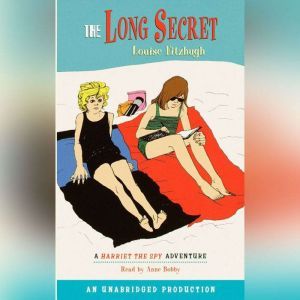 List: $18.00

| Sale: $12.96
Club: $9.00
The Long Secret
Format: Digital Audiobook Download
---
Synopsis
Harriet the Spy refuses to become ruffled when an unidentified person starts leaving disturbing notes all over the quiet little beach town of Water Mill. She's determined to discover the author of the notes. And she drags her friend, mousy Beth Ellen, into all kinds of odd and embarrassing situations in her efforts to reveal the culprit. Observing in her own special, caustic way with her ever-present notebook, Harriet the Spy is on the case. But will she be ready to face the truth when she finds it?

Praise for Harriet the Spy® and Her Friends
 
Harriet the Spy®

"Harriet is . . . wholly relatable whether you're eleven or several times that age."—EW.com
 
Harriet Spies Again
By Louise Fitzhugh and Helen Ericson
Winner of the Edgar Award for Best Juvenile Novel

"Ericson has perfectly captured the voice and pacing of Fitzhugh's original novel in a seamless rendering of a fresh, enjoyable story for today's readers." —School Library Journal

Harriet the Spy, Double Agent
By Louise Fitzhugh and Maya Gold

"Harriet the Spy is back, and Gold does a credible job of maintaining the special character and her crusty charm." —Booklist

The Long Secret

[STAR] "Written with subtlety, compassion, and [Louise Fitzhugh's] remarkable ability to see inside the minds of children." —School Library Journal, Starred
 
Sport

[STAR] "A worthy successor to Harriet the Spy—and that is high tribute." —Booklist, Starred


From the Hardcover edition.