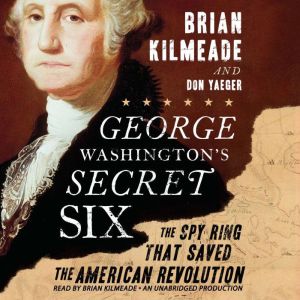 List: $17.50

| Sale: $12.60
George Washington's Secret Six


The Spy Ring That Saved America

Format: Digital Audiobook Download
---
Synopsis
From the cohost of Fox & Friends, the true story of the anonymous spies who helped win the Revolutionary War
 
Among the pantheon of heroes of the American Revolution, six names are missing. First and foremost, Robert Townsend, an unassuming and respected businessman from Long Island, who spearheaded the spy ring that covertly brought down the British . . . before they, or anyone else, could discover their names.
 
Brian Kilmeade and Don Yaeger finally give Townsend and his fellow spies their proper due, telling the fascinating story of how they passed information to George Washington that turned the tide of the war. Using a network of citizen operatives that included a longshoreman, bartender, newspaper editor, housewife, tailor, and femme fatale, and employing a series of complex codes, the so-called Culper Spy Ring used sophisticated tactics to subvert the British.
 
Based on previously unpublished research, George Washington's Secret Six is a gripping history of these amazing, anonymous Patriots who risked their lives for our freedom.